About Us
Bristol A Cappella is a high-quality mixed chorus that sings contemporary songs from a range of genres in the barbershop style. We don't have beatboxing or soloists, but we aim to create a wall of sound by singing in four to eight-part harmony. We're always looking to improve our performances and have a good time along the way. We love to entertain at gigs and competitions and always welcome new auditionees.
Vision
We have a long-term vision with shorter-term goals to get us there, following the rules of our constitution. Our mantra is:
Enjoyment · Education · Excellence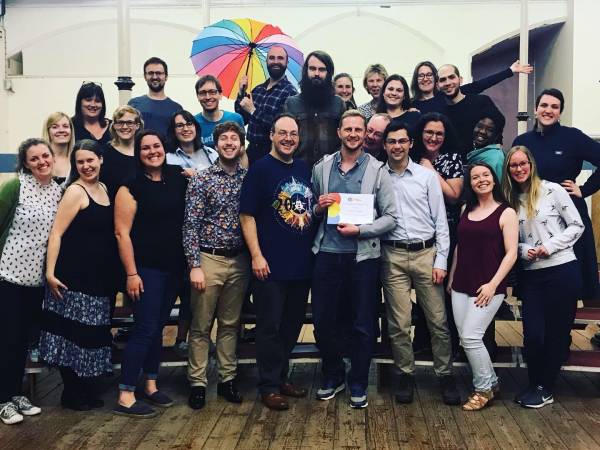 History
2023
2021
August: First rehearsal back inside at Victoria Methodist Church

June: Restarted rehearsals in the open air at Clifton Downs
2020
2019
May:

BABS

convention, scoring 69.8%
2018
6th October:

IABS

international silver medallist chorus, scoring 75.2%
2017
22nd July: Collaboration with Great Western Chorus at the Redgrave Theatre

29th May:

BABS

convention, scoring 70.2%
2016
10th December: First major self-hosted concert

30th May:

BABS

convention - first ever British mixed chorus to compete, scoring 64%

12th March: First contest - Mid-Somerset Festival
2015
July: First coaching evening with Liz Garnett

January: Rehearsals moved to Victoria Methodist Church
2014
2013
1st October: Official founding date, rehearsing at St. Paul's, Clifton

Spring: Trial rehearsals
Branding
1)
Previous mixed chorus contest winners have been formed from existing male and female choruses, or rehearse sporadically at weekends.