Table of Contents
New Singer Information
Welcome to Bristol A Cappella!
Here's some important information for potential new members. If you've got any questions after reading this summary, please speak to the membership coordinator or a section leader at your first rehearsal, or email membership@bristolacappella.co.uk.
First rehearsals
Your first two weekly rehearsals are free. In your first week or so, we'll check your vocal range to suggest which voice part best suits your voice and ask you to sing a line back to someone from the music team. Our membership team will take contact details from you including an email address so we can send you more information about joining.
After your first or second rehearsal, we'll make an account for you on our website and ask you to sign a copyright agreement. Then we can give you access to our web site's singer pages to download sheet music and audio teach tracks to help you to learn songs. You don't have to read music to sing with us, but we do give you a copy of the songs we're singing during the rehearsal until you can access the web site. This also makes a Bristol A Cappella email address you can use to log into Slack, our chat platform.
Come along to the pub at the end of the evening and have a chat with the other singers!
Induction stages
We want you to enjoy making high-quality performances, whether you're just starting out, or have been singing for decades, and we check our new members to make sure they're a good fit for the chorus.
We try to make our induction as natural as possible, so you have eight weeks to memorise a song (singing along to our audio teach tracks helps) and sing it within the chorus and a few lines in our rolling quartets without using the score. In the next five weeks we'll check how you're getting on and whether you're ready to join Bristol A Cappella. Your section leader will let you know more about the process as you start.
Once you've passed the process, you'll become a full member of the chorus and we'll present you with a certificate, a shiny name badge, and lend out your uniform.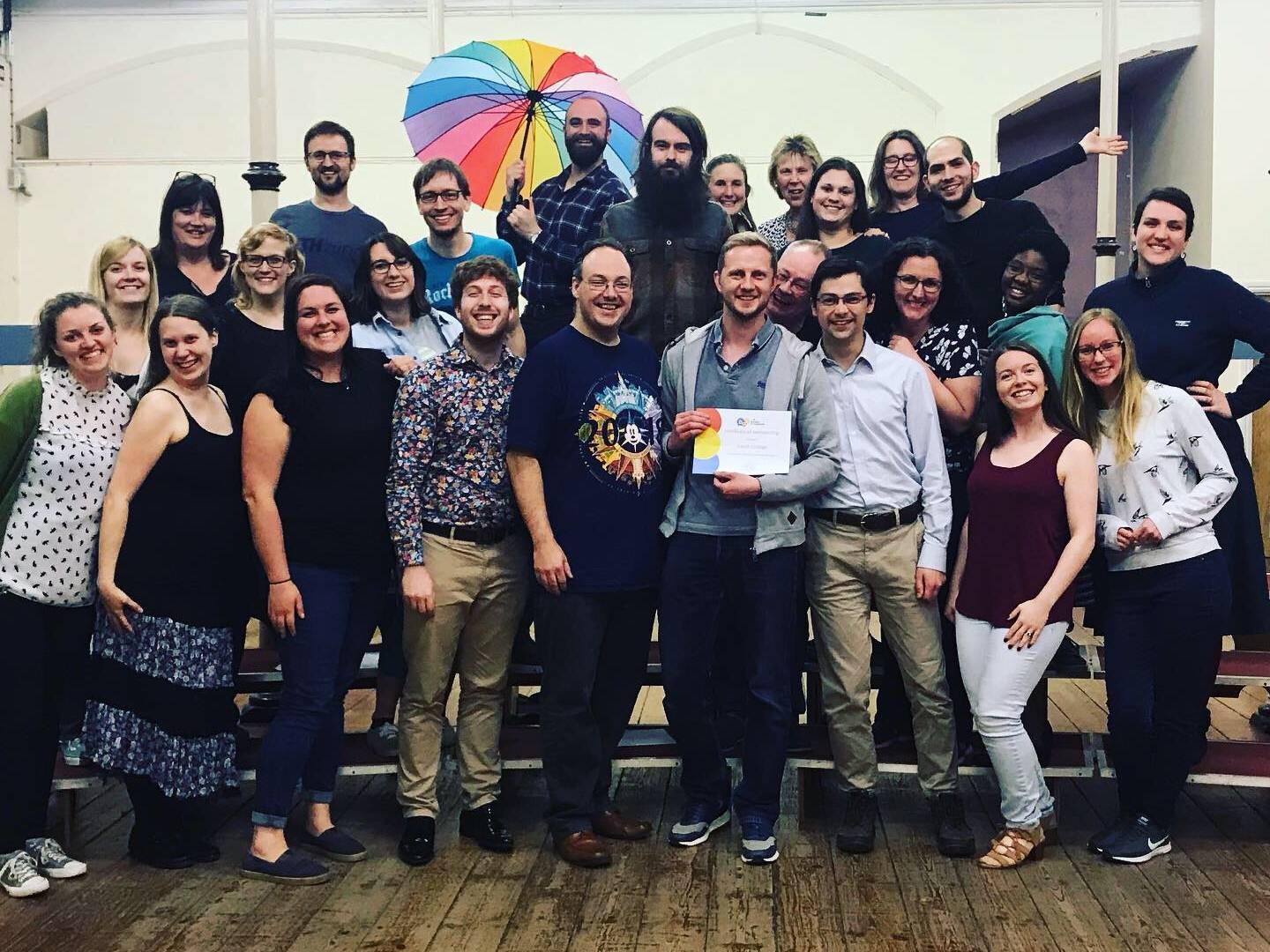 Learning songs
We learn around six to eight new songs each year. Although we work on the musicality of songs in rehearsal, you're expected to learn the notes in your own time and put in some practice at home during the week. We also have a back catalogue of around 25 songs that will take longer to learn; we think you can get up to speed over a couple of years with the chorus and you won't need to be able to sing these all to start with! Our repertoire songs are labelled "year 1" or "year 2" in the recommended learning order and when we send out lists of the songs to be practised in rehearsal.
Performing
Every year we try to take part in a major competition and put on several large shows, plus we take on a number of gig bookings from busking to private engagements. We also schedule three or more weekend coaching sessions spaced throughout the year where outside specialists help improve our techniques and performance.
Chorus members are expected to take part in as many of these activities as they can, and we ask members to let us know in advance their attendance using a spreadsheet in the singers' area of our web site.
Special requirements
If you've got any special requirements or medical conditions that you think we should be aware of, please contact the welfare coordinator or membership coordinator in confidence. They'll make sure that the relevant people know so we can make any adjustments needed to help support your time in the chorus.
More information
There's a handbook and lots of useful links in the singers-only area of our web site. We probably won't have thought of every question you have, so please ask; the music team and committee are always happy to field questions, and you can ask the chorus in the #general channel on Slack. Weekly notices are given in rehearsal, and a copy is sent out to our members by email.
Have fun!
Our mantra is enjoyment, education, and excellence, and you should do all three to get the full Bristol A Cappella experience. See you on the risers!