New Singers Evening May 2018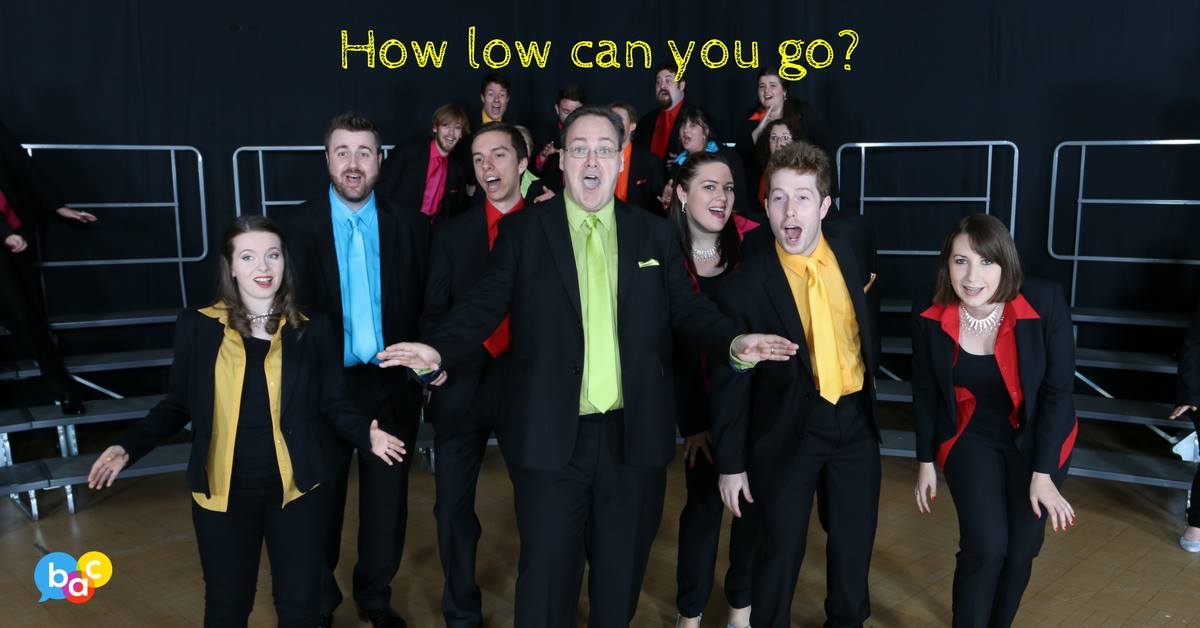 Seeking tenors and basses for a limbo contest!
Juuuust kidding 😜
We're an a cappella chorus seeking low voices! (Men, we're looking at you. Lady tenors? Heck yes!)
🎤 Do you like to belt one out in the car? Bust out your inner rock star in the shower? Or even just hum a little ditty to get the kids to sleep? Come hone your skills with us! 👨🏼‍🎤
🎶 If you have even an inkling of interest in joining, please get in touch or just come along on 15th May! No need to be a professional or have chorus experience. Every week we work on our craft together to develop as singers.
🌍If you aspire to fame and glory (yes, there is OBVIOUSLY fame to be had in chorus singing 😉) then you're in for a treat, as we aim to compete in an international contest later this year. Get involved! We'd love to have you.
Once you've given us a try, we do rehearse every week at the same time and place. For more information please visit the joining page.
This month we are unfortunately not recruiting Sopranos or Altos. This is due to the need to maintain proper balance between sections. Please check back in June! If you're a person who can hit those tenor or bass notes, please come along! If not, please feel free to join our BRAND NEW sister chorus, All Voice. All Voice rehearses on Thursdays at 7:30pm at Victoria Methodist Church. Check it out here: https://www.facebook.com/AllVoiceACappella or https://www.allvoice.net!
Have questions or just need someone to give you that little push of encouragement? Get in touch with membership@bristolacappella.co.uk to find out more!